Rental PtoF Gauge Unit

Printer-friendly version
This is a rental PtoF gauge, with which a user's press's gauge may be calibrated.
Just bring the PtoF unit up to 1000 pounds of force (psi on the gauge)
and make a note of the press's gauge reading.
Repeat for 2000/3000/4000/5000 pounds of force on the PtoF unit.
Don't exceed 5000 pounds on the PtoF unit's gauge. You break it, you buy it.
Renter is responsible for shipping back to ned in a timely manner.
Image: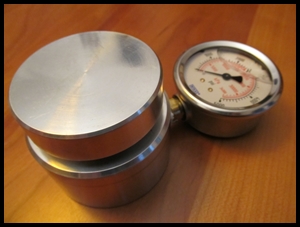 Dimensions:
8 in × 8 in × 5 in